The unusual murder of an Oxford professor brings together three strangers in World War I London: John, a soldier and the professor's correspondence student; Jack, a young Oxford student; and Charles, an editor at the Oxford University Press. One rainy night they meet a curious man called Bert who tells them that they are the caretakers of the Imaginarium Geographica, an atlas of imaginary lands. Learn more at the Here There Be Dragons website!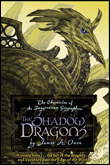 The Shadow Dragons – The Caretakers of the Imaginarium Geographica are at war. The Imperial Cartological Society, led by Richard Burton, have collected all of the doors from the Keep of Time, and are building a new tower in our world at the request of an old enemy: The Winter King's Shadow. He has a terrible weapon – The Spear of Destiny – that can be used to command the shadows of anyone it touches…including the protectors of the Archipelago, the dragons. With a ship called The Iron Dragon, the Shadow King regains passage to the Archipelago where he uses the power of the Spear and the portals of Time to enlist an unstoppable army of Dragon Shadows. And after the Archipelago falls, he intends to betray the Allies in our world – but not to align himself with the opposition. The Shadow King intends to use the turmoil of WWII to take over BOTH worlds.
Learn more about the fourth book in the Imaginarium Geographica series at the Here There Be Dragons website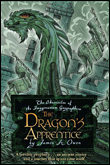 The Dragon's Apprentice – Seven years after the events of The Shadow Dragons, John, Jack and Charles are finally able to return to their beloved Archipelago of Dreams. But even as their return is celebrated by old friends, new concerns shadow the reunion: the threat of Ecthroi, primordial Shadow. And perhaps even worse, the apparent splintering of Time itself.
Learn more about the fifth book in the Imaginarium Geographica series at the Here There Be Dragons website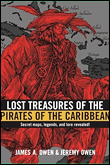 Lost Treasure of the Pirates of the Caribbean – Filled with Pirate lore and authentic new renderings of actual pirate maps, is also a book with a secret: it's one of the lost chronicles of the Imaginarium Geographica – because it tells the story of the friendship between the mythical Captain Charles Johnson, the rogue Caretaker Daniel Defoe, and the mapmaker Eliot McGee!
Learn more about the Lost Treasures of the Pirates of the Caribbean