I am often asked to speak at schools, but many booksellers, educators, and students have been surprised to realize that when I do, I barely talk about my books at all.
That's because I believe that there are reading groups, and dedicated librarians, and community-active booksellers, and best of all, excellent teachers who are more than happy to discuss the Dragons, and Myth, and Legend, and storytelling in my Imaginarium Geographica books with their students. But if I am given the attention of five hundred middle-school students for an hour, and only that hour, I'm not going to talk about my books – I'm going to talk about the things that I believe are most important in this life; about things I believe are True, and meaningful, and worth sharing.
I'm going to tell them stories drawn from my own life: examples about overcoming obstacles and adversity; stories about how making choices in their lives is like drawing a Dragon; vignettes about how I came to do what it is that I love most in the world for my job. But most importantly, I'm going to tell each and every one of them that they can make the same kinds of choices that I did – and that I believe in them.
Sometimes, being told that is the thing that we need most in our lives. And I think it's the most important thing that I can say to anyone: I believe in you.
Until now, most readers could not experience that presentation unless they attended a school, or some signing event where I was speaking – and in part because of that, we have long considered putting those stories, those things I most believe, into a book.
A book that is, I feel, the most meaningful thing I've ever written.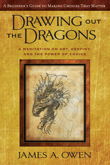 Drawing Out The Dragons: A Meditation on Art, Destiny, and The Power Of Choice – This  is not fiction, but stories drawn from my own life and experiences, which I hope will inspire and motivate readers all over the world. The back cover has a quote from my friend LeVar Burton, which reads, "In this book, James inspires and motivates both the young and young-at-heart with personal stories that share an important belief: that you can choose to lead an extraordinary life if you will just persevere, stay focused on your goals, and believe in yourself. James believes in you. And I believe in him."
Now available from Coppervale Press as ebooks for Kindle, Nook, and other ereaders.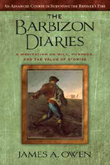 The Barbizon Diaries: A Meditation on Will, Purpose, and The Value Of Stories – "Mythologies are huge, sweeping things. And the grandest stories are those with the widest arcs of triumph and despair. As much as we may want to, we may not be able to avoid the despair – but triumph is a matter of will. DRAWING OUT THE DRAGONS was written for everyone, but this book is an advanced course in surviving the Refiner's fire – because some stories are too important not to share, and some stories are too meaningful to hide. – James"
Now available from Coppervale Press as ebooks for Kindle, Nook, and other ereaders.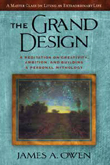 The Grand Design: A Meditation on Creativity, Ambition, and Building A Personal Mythology – "This book brings together everything from the previous volumes about the things I know and believe are most important in choosing to live an extraordinary life. That's everything. And that's all. – James"

Now available from Coppervale Press as ebooks for Kindle, Nook, and other ereaders.